Wingate provides $30m loan to land developer ResiVentures
THIS STORY APPEARED IN THE AFR 07.02.19
Melbourne land developer Resi Ventures has turned to the private equity-backed non-bank sector to fund construction of its latest housing estate, after striking a deal with powerful finance house Wingate.
Co-founder Khurram Saeed said the company had secured more than $30 million of funding for construction of its Monument Estate in Plumpton in Melbourne's north-west. Wingate also funded construction of its Accolade development in Rockbank in 2018.
While the funding was more expensive than a bank loan, he said it provided greater flexibility.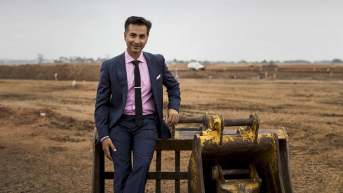 "Wingate has allowed us to fund eight stages concurrently in our Accolade estate, so we get to deliver titles to the purchasers a lot sooner," he said.
"If a bank had funded it, they would want us to complete the construction on the first couple of stages, pay back the loan, and then go again on the next stage. With Wingate funding us we can fast track the construction process."
Major bank lenders to the residential land industry are ANZ, Bankwest and NAB with regional banks Bendigo Bank and Bank of Queensland also providing funding to a select group of land developers.
However, all have restricted lending to land developers, with many developers finding a better reception from the growing pool of non-banks who are funded by high net worth investors, family offices and institutions.
Exit strategy
Mr Saeed said the credit squeeze would ensure only experienced developers with track records will be funded by risk-averse private lenders as banks continue to withdraw funding.
Resi Ventures has a land bank of almost 3000 lots and 200 townhouses. Mr Saeed said the key to getting funding in the current environment was to de-risk the project and have a clear exit strategy for the funder.
"Wingate funded our developments on the back of strong presales and the fact we have an experienced team that has a track record of delivering successful master planned communities," he said.
"Experience counts for a lot with the private lenders. Just like a bank, the private funders need to know the directors have years of experience in delivering successful projects," commented Mr Saeed.

Looking ahead Mr Saeed, who runs Resi Ventures with Anthony Braunthal, said 2019 would be the year for doing deals as land speculators default on settlement or are forced to do deals at market prices.
"Dozens of speculators who had put down deposits under a 'put and call' option, or a straight contract, now just want to on-sell the property to save their deposit," he said.
"If they have bought well, we will look at doing a deal to save their deposit and share the upside. However, we are finding a lot of them have paid too much for the land and therefore we can't make it work."